Proposed track listing:
1. The revolution speech from 'A Fistful Of Dollars' (1964), followed by Hugh Mundell and Augustus Pablo 'Run Revolution A Come' and Marissa
2. Marissa followed by iFingers 'Come The Revolution'
3. Adam Ant followed by YouTube Females Taking About A Revolution
4. Danny De Vito in 'Matilda' followed by Neophyte 'Revolution 909'
5. Joey Ramone followed by Kubla Khan 'Revolution II' (1970)
6. A Scottish Lesson followed by 13 Beatles YouTube revolutions
7. The revolutionary war followed by Pinnacle Rockers 'Revolution'
8. Tim Brooke-Taylor from 'Willy Wonka and the Chocolate Factory' (1971) followed by Damage Done By Worms 'Psycho Revolution'
9. John Lennon followed by Hilary Duff 'One Girl Revolution'
10. The Scottish Revolution followed by Bearback 'Evolution of the revolution'
11. Time Team followed by Crispus Attucks 'Revolution Now'
12. Talking About YouTube followed by Asialakay 'Movement Revolution'
13. 'Alice In Wonderland' followed by Patti Labelle's Revolution medley (1973)
14. The Militant Left followed by Liberty 'Revolution Time'
15. John Lennon followed by Skip Bifferty 'Schizoid Revolution' (1967)
16. 'Casino Royale' (1967) followed by Henree feat. Nikka 'Revolution'
17. Nishio Yuki performing 'My Revolution' followed by Wise Intelligent 'Stop bitchin and start a revolution'
18. World War I followed by Psycho & The Birds 'I love a revolution'
19. Aimee Allen's Unofficial 'Ron Paul Revolution Song' followed by Sado Nation 'Industrial Revolution'
20. Errol Flynn on The Cuban Revolution followed by xLookingForwardx 'Heroes of your revolution'
21. Lick My Lips followed by Robert9 - nine uses of 'revolution' by Robert Pollard
22. Eighty-eight uses of the word 'revolution' (post-revolution999), including Boy George, Sammy Davis Junior, Jello Biafra, Felt and negativland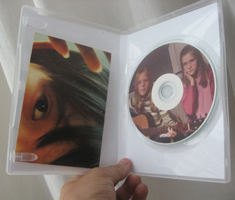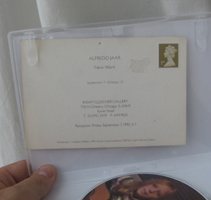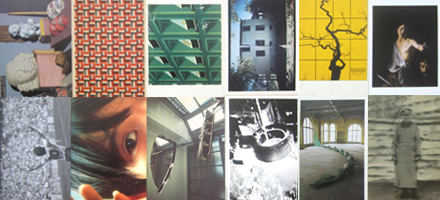 Each CD with insert: A Stamped Postcard From A Collection, with one of the following: Michelangelo Merisi da Caravaggio 'David with the Head of Goliath' (1606-10), Alfredo Jaar, New Work at Insam Gleicher Gallery, Chicago (1990), Gerhard Richter 'Onkel Rudi' (1965), Diego Maradona (Weltsprache Fussball, 2006), Gordon Matta-Clark 'Office Baroque (Antwerpt Project 1977), Konrad Klapheck 'Vergessene Helden' (1965), John Squire/The Stone Roses 'One Love' (1990), Gilbert & George 'Intellectual Depression' (1980), Brett Day 'Contained; Container; Containing' (Leeds Art Space, 1988), Fischli + Weiss 'Der Lauf Der Dinge/Stiller Nachmitage' at Third Eye Centre, Glasgow (1988), Gordon Matta-Clark 'Splitting' (1974) and Eduardo Paolozzi 'Installation of Lost Magic Kingdoms and six papermoons' (1985-89).

The cover image would be Emily (16) and Fiona (13) performing 'Talking about a revolution' on YouTube. See it here)

Some of the proposed YouTube samples: Wrathchild, T.Rextasy, Vlog3, Joul, The Twin, clattybrown, Patti Smith, Catfish Blues 68, Marissa (from the band Defy Tomorrow), vhm14u2c (Vince), Rafa Yanes, Rivett, wkc3, Beat Bang, Fiona & Emily, Slaughter, The Paul Green School of Rock (Bucks County), Vonder Pibe, Kentaur, Piero Pelù, Velho Restelo, FabTheGap, Jodie (aged 11), CuriousNation, Wayslinn, LoXou, AOINTRIMABU2332, Edouard Clarisse, curly2108, tristounette62, Caro, lazyfret, Claudia, ledOberman, Kali Azzura, El Medico, Monday Night Band, Brolle Jr and Sara Löfgren, C.O.R. featuring Mike Nova, Clifford T. Edwards, Toni Collette & The Finish, Milan Mikse, Suzanne Gee, Soulwax, Hayley Sanderson, The Substitutes and Toonmungers