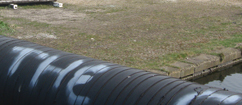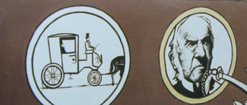 We wanted a structural project, knowing that moments of magic break through the cracks in well structured projects.
We wanted to ask questions such as:
Could someone write a Number 1 hit about the Leeds & Liverpool Canal?
- Is Bootle-born Jamie Carragher scared of new ideas?
- Was Billy J Kramer from Bootle?
- What if we just cemented the Canal in?
- Could we get the Canal into a film scene?
We would work with Re-Dock from Day 1 on devising new methods for 'delivering workshops'; we would encourage thousands of locals to suggest activities or alterations for the Canal; for ease, we would sub-divide these into work, rest and play. We would encourage people to be serious, inventive or frivolous.
The resulting suggestions would be roughly collaged, Heartfield style, and presented back to the public; we would strive to make as many as possible come true.
Community Art in Bootle
I had worked in Bootle and Seaforth in the mid-1990's (mural pic above) in the aftermath of Bulger, working with hundreds of Primary School children on murals, some of which remain, albeit faded. The pupils who helped paint those jungle and solar scenes would now be in their mid-20's and we were asking some of them to think about their locale instead of faraway jungles. Well, we were asking them to think about jungle, but to think of having them on their doorstep this time.
Connections and signs
As Re-Dock began working with community groupings, including local Boxing Clubs, they started re-mapping the Bootle and Seaforth areas through personal connections people were volunteering. We started on the first day with some recent graffiti at Pennington Bridge (Susie + Dave 2003) and pushed peoples' specific connections with the Canal, rather than the generic ones that everyone knows (eg the World War II bomb that fell).
Each of these connections was initially delicately balanced with a suggestion for a future canal. The signs we developed looked like beautiful scales.
We brought around 40 of these together into a detailed set of new signage posts for the Canal, to be presented to British Waterways. These fluid designs, pointing to ideas rather than tourist spots and directing to a website as much as to a bridge, remain in limbo.
The everyday
I often hark back to the Bellgrove project I set up in 1989, based on a Glasgow train station I passed every day for six years en route to Glasgow School of Art and back. I raised funds to own a billboard and installed it on the retaining wall of that station and for a year I presented 17 new hand-painted posterworks from artists and students.
There was something about being alert or creative before you actually get to one's place of work or study.
Every week I now take the train from Liverpool to Leeds and the tracks run alongside the Canal most of the way. The speed of the train alongside the Canal vividly demonstrating why the Canals faded industrially. It look achingly beautiful at some spots, seems a shame to spoil it with barges and movement.
Roach
The guys who fish on the Canal see the fish rather than the water. See the fish rather than an artery, an artery we chose to symbolise the changes in Bootle and Seaforth. I have some doubts about creating new permanent monuments when sometimes an existing one is staring you in the face.
What's the point?
It is satisfying to see some of the (wacky) suggestions come to fruition. I hope that in twenty years there is a regular ice cream van and the annual 'throw your husband in' day continues.
Slow burning projects within Festivals – discuss.
To be continued once the billboards are up, removed and remembered …
Project thanks – Paul Kelly, John, Sam, Tim and Neil at Re-Dock, Paul & Chet at Loudmouth, Jina at Titan/Primesight, Laurie at Liverpool Biennial and Laurie at Augustus Martin.