m a n i c H e

CANTaudio 020, October 2006, 4 x 16 minute audio work + 2.12 LIFE'S SHORT TOO, edition of 16

m a n i c H e - cantAUDIO interview


PART 1: all undone (16.00 minutes)

An introduction to Metal Machine Music: no words, no hooks, no beats. And a history of miserable fucking interview Q+A's (crass, ian curtis, elvis en route to army in 1958, bow wow wow in the middle of the desert in 1983, minor threat, bill grundy, siouxsie, marilyn manson, alexei sayle, devo, salvador dali, pink floyd, captain beefheart, janis joplin, marcel duchamp, paul weller, long john baldry), Jam La-La-La voice of a generation, seventy VU snippets in 100 seconds, the all undone choir.









PART 2: dillusional (16.00 minutes)

It's all ME ME ME! Metal Machine Music (of course) meets Man Machine, viola organ bass, Roger Philips on domestic violence, Reed's voice slowed and deepened through the decades.





PART 3: birlin' (16.00 minutes)

Berlin condensed into 8 minutes, then doubled, maniche don't want to go to chelsea, billy connolly, perry como, millie, fennesz (for texture), toyah and I have excellent news for the world - new wave does not exist.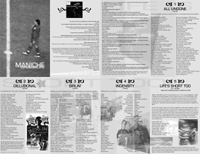 PART 4: indensity (16.00 minutes)

Walking the line of unlistenability with 912 tiny snippets from, amongst others, ACDC, Arctic Monkeys, Asia, Bon Jovi, Buck Cherry, Coldplay, Duran Duran, Elton John, Hank Williams, Iron Maiden, Johnny Cash, Kate Bush, Madness, Motorhead, Neu, Piranhas, Superdrag, Talking Heads, The Breeders, The Coral and Yazz.


PART 5: LIFE'S SHORT TOO (02.12 minutes)

MMM - (MACHINE) was 64 minutes divided into 4 x 16 minutes; MANICHE is 1098 snippets items pieced together to 64 minutes, plus the 2.12 of LIFE'S SHORT TOO, an experiment in cutting out the bureaucracy of process, the grind of creativity, the waiting, the u-turns, the proposing, considering, touting, funding, researching and making; a kind of micro-curating. I put out two calls by email to known and unknown groupings for 16-second audio submissions in and around the themes of MMM and Berlin.
On the first occasion I gave only an 8-hour deadline for submissions. By 8pm, with two hours to go, nothing had come in. Had we lost the ability to react quickly? Or was 8 hours not enough? And then something came in. And another. On the second call for submissions, I left a phone number where audio tracks could be left on an answering machine. In total 11 tracks arrived; seven are track 5 and the 4 berlin transmediale pieces are in the middle of BIRLIN'. I know only two of the people who submitted. Throbbing Gristle's shortening of their original 'united' track down to 16 seconds is also included here.
LIFE'S SHORT TOO
Tristram Shandy - Caroline Says
Takeo Wantabe - (glitches)
Alex Dempster - (beats)
Foreign Dots - Heraldry
Adam Cooke - Lack Of
MaTHs - (phone)
Michelle G. Riordan - (breathing)
Throbbing Gristle - united
Šantaudio020, produced in North Wales and Liverpool. WWW: how to be local (Guardian), Rip It Up And Start Again (S. Reynolds), Rise Above (Black Flag), Conquerer of the moon (R. Pollard), gwely Mernans (Aphex Twin), Head On (Cope), with thanks to RM and no thanks to CG. October 2006..

my father's home